the

COFFEE


FROM THE BEST BEANS TO THE UNIQUE FLAVOR OF COFFEE
For reasons of quality, the roasting of our raw coffee varieties is carried out separately. From these single origins we produce numerous mixtures, so-called blends. This process is rarely used because it is considerably more complex than mixing the green coffee varieties before roasting. Quality is always our priority.
But our claim goes even further: because we have to take our customers' water as it comes. Our customers receive optimal coffee blends that are coordinated and taken into account, individually created and manufactured in a controlled, consistent quality with many steps. Your Daniel Moser coffee is no longer just our coffee, but your very own personal product.
Of course, this coordination cannot be done on the fly, but for Daniel Moser it is a principle to offer our customers this way in order to obtain a distinctive product. Our coffee is only filled in quality packaging with a "venting channel", the aroma protection valve, as soon as possible after roasting and delivered immediately. This freshness distinguishes us from most of our competitors - especially in the industry - who, for logistical reasons, allow long periods of time to elapse between the roasting process and delivery.
The individual recipes and roasting profiles resulted in various "private labels" - own brands, which were and are used very successfully by the customer as their own brand. So each espresso gets its own soul.
Our coffee blends meet the highest quality requirements - regardless of the variety, the following always applies:
Fresh every day: daily roasting and shipping
Hand-picked: Exclusively hand-picked Arabica beans from different origins
Single Origin: single-origin roasting and short intermediate storage
Roasting: gentle long-term roasting process
Water: tailor-made recipe, tailored to the water of our customers
Blending after roasting: Purely roasted Arabicas are blended into unique Daniel Moser varieties. Only then will they receive the Daniel Moser label.

We create individual taste profiles and manufacture them to suit your needs. We develop your tailor-made coffee creations from the following profiles:
VIENNE
Ideal for filter coffee preparation with a full aroma
LOW CAFFEINE
Gentle indulgence - reduced caffeine
private

LABEL


IHR DANIEL MOSER – INDIVIDUELL VERPACKT
Jeder Daniel Moser Kaffee ist gleichzeitig eine Mischung, die speziell für den einzelnen Kunden hergestellt wird. Da liegt es auf der Hand, diesen auch von außen als ein solches Produkt zu deklarieren und mit eigenem Label oder eigenem Aromabeutel zu verpacken.

Stärken Sie Ihre Marke mit einem hochwertigen, frischen Produkt – authentisch, einzigartig, in vielen Verpackungen!

Wir bieten auch in diesem Punkt Full-Service und das bereits ab kleinen Abnahmemengen. Wir informieren Sie gerne individuell über Ihre Möglichkeiten.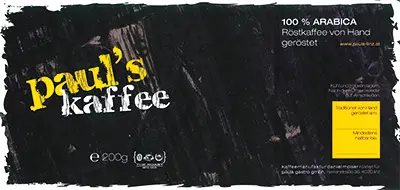 Good coffee can also be made with small espresso machines. However, Daniel Moser does not rely on the ubiquitous aluminum/plastic capsule here, but on machines into which C-PODs are inserted. And this is how easy it is to prepare:
open lever

Insert C-POD and close lever

obtain water

... enjoy coffee like from a barista!
C-PODs are filled with 7g of coffee of the best Arabica quality and can be disposed of with organic waste after use.
C-PODs are individually packaged to protect their aroma, the packaging unit is 150 pieces.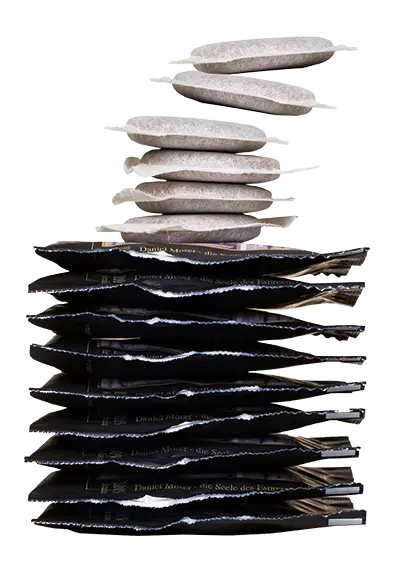 The home portafilter machine for C-Pods with a vintage look. Everything the grown-ups have: cup warmer, thermostat, 20 bar pressure, metal housing, integrated 1.3 liter water tank, stainless steel drip tray.
| Dimensions (WxHxD) | Weight | Electricity | Colors |
| --- | --- | --- | --- |
| 24,5 x 34,5 x 28 cm | 10 kg | 230V - 1050W | |
A meal cake has a lot to say. Possible preparation errors can also be recognized visually and can have various causes:
the wrong coffee quality

machine pressure too low

grinding too coarse or too fine

wrong filling level in the sieve

wrong contact pressure

old grist
Daniel Moser's equipment ensures consistently high coffee quality.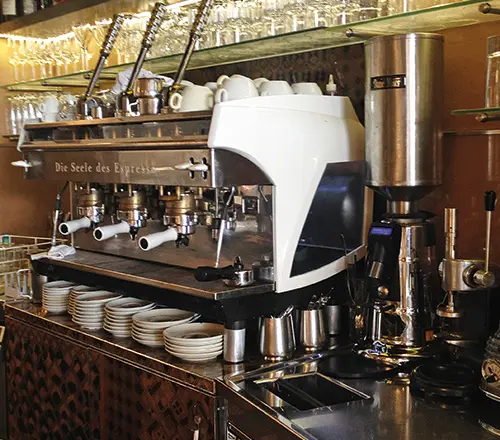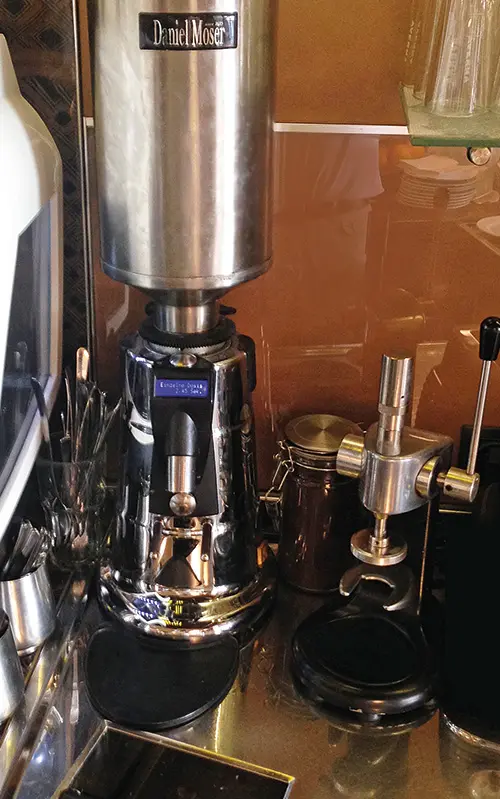 FRESH GRINDERS
With metal container and automatic portioning, grinds in portions as required, counter, stepless grammage adjustment, slow grinding, chrome. The Dynamometric Tamper guarantees the even required pressure of 22 kiloponds, chrome.
| Dimensions (WxHxD) | Weight | Electricity |
| --- | --- | --- |
| 40 x 80 x 40 cm | 20 kg | 230V - 800W |
| Dimensions (WxHxD) | Weight | Electricity |
| --- | --- | --- |
| 23 x 80 x 37 cm | 19 kg | 230V - 800W |
DANIELA MOSER
A semi-automatic portafilter machine with the best workmanship and an elegant design. Particularly suitable for small businesses (cafes, bakeries, bars, bistros). Their technical features make them just as efficient as the larger models, while keeping the dimensions extremely small. Automatic portioning, independent steam boiler with hot water output through heat exchanger. With tank or fixed water connection.
| Dimensions (WxHxD) | Weight | Electricity |
| --- | --- | --- |
| 48 x 59 x 61 cm | 40 kg | 230V - 2,6 kW |
FRANCESCO
Our classic lever technology with new technology - probably the oldest and most honest way to produce espresso. Semi-automatic hand lever machine with piston cylinder technology in a limited edition exclusively manufactured for Daniel Moser. Lever technology with special damping and ergonomic stirrup lever. Large groups, even pressure with pre-brewing, large boiler capacity with 2 steam lances (1 for 1-group version), low service costs.
Size
Maße (BxH + Hebel xT)
Weight
Electricity
Kessel
1-GRUPPIG
38 x 47 + 34,5 x 54,5 cm
47 kg
230V
2 kW
5 l
2-GRUPPIG
72 x 47 + 34,5 x 54,5 cm
68 kg
400V
4,5 kW
12 l
3-GRUPPIG
96 x 47 + 34,5 x 54,5 cm
88 kg
400V
7 kW
19 l
4-GRUPPIG
120 x 47 + 34,5 x 54,5 cm
112 kg
400V
7 bzw. 9 kW
25 l
HYBRID
The "Daniel Moser Hybrid" impresses with its diverse technological innovations in terms of extraction, ergonomics and user-friendliness. It meets the high requirements in terms of reliability and quality for an excellent espresso in the cup. With its stainless steel/chrome silhouette and timeless vintage design, the Hybrid has an aesthetic like no other. Additional manual operation by lever, pre-brewing and extraction time changeable at the moment.
| Size | Dimensions (WxHxD) | Weight | Electricity | Boiler steam | Kettle water |
| --- | --- | --- | --- | --- | --- |
| 2-GRUPPIG | 80 x 57 x 60 cm | 80 kg | 400V - 6,7 kW | 8,9 l | 2 x 1,65 l |
| 3-GRUPPIG | 100 x 57 x 60 cm | 92 kg | 400V - 6,7 kW | 14,3 l | 3 x 1,65 l |
| 4-GRUPPIG | 126 x 57 x 60 cm | 113 kg | 400V - 6,7 kW | 18,8 l | 4 x 1,65 l |
DYNAMIC
Unique in technology and design - limited edition "Daniel Moser". Individually adaptable by Daniel Moser. Special body made of metal with many extras tailored to your needs. Separate boiler capacity for steam and coffee preparation - especially necessary when large quantities of milk are frothed. Optimal temperature management.
| Size | Dimensions (WxHxD) | Weight | Electricity | Boiler steam | Kettle water |
| --- | --- | --- | --- | --- | --- |
| 2-GRUPPIG | 79 x 51 x 68 cm | 90 kg | 230/400V - 6,7 kW | 8,9 l | 2 x 1,65 l |
| 3-GRUPPIG | 98 x 51 x 68 cm | 100 kg | 230/400V - 6,7 kW | 14,3 l | 3 x 1,65 l |
All coffee machines shown on this page require a water connection with a ¾'' external thread, a water drain and a correspondingly secured power connection.
Daniel Moser offers you a first-class range of teas with a variety of the most popular types of tea. Selected black teas, classic varieties with fruits, herbs, peppermint and chamomile as well as an exotic green tea and Indian Chai.
Protected against moisture with aroma protection and a preparation suggestion depending on the type, the tea range rounds off your hot drinks menu.
The sales unit is 150 pieces, divided into 6 handy boxes.